Dave stages punk opera about religious conversion while high on LSD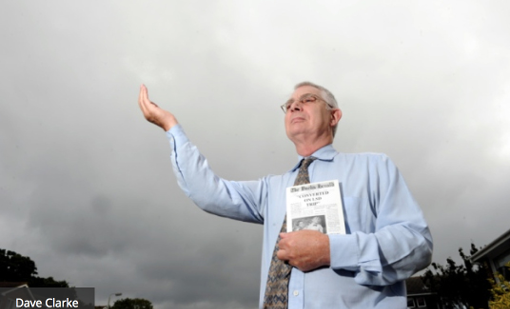 _____________________________________________________________________________________
by Hayley O'Keeffe
hayley.o'keeffe@jpress.co.uk Published 17th February 2014
___________________________________________________________________________________
A man who converted to Christianity while high on LSD watching a screening of Easy Rider has produced a punk rock opera about his life.
Dave Clarke, who grew up in Aylesbury, spiralled into a life of crime in the 1960s with his brother Michael.
But following a spiritual awakening in a town cinema while high on LSD, Dave turned his life around and converted to Christianity.
And now, with the help of punk band Asylum Seekers, the story has been made into an opera entitled Borstal Boy.
Dave, who used to be part of popular sixties Mod group Fowler Mean, said: "I gave LSD to four of my friends and we went to see Easy Rider at the old Odeon.
"I got the horrors and paranoia and I was frightened of killing myself. I said 'Jesus please help me.'
"All of a sudden peace came upon me and I heard his voice speak to me saying 'I've been with you Dave, you've been searching for me for a long time,' I turned my life around that night."
The opera is based on Dave's book of the same name, but the writer hopes that actually seeing actors perform his story will appeal to a wider audience
He said: "There are ways for people to turn their lives around but they need help."
He added: "I realised that people simply don't read books because they are not a quick fix.
"I didn't know how to get the story out but then decided the way to do it was to turn it into a punk rock opera."
The show premieres in Portsmouth this year, but Dave hopes it will be performed in jails around the country and has written to Aylesbury MP David Lidlington asking for his help.
After his conversion Dave became a preacher and all but lost touch with his brother.
But in 1987 he heard in a news bulletin that Michael had been arrested in the Philippines for promoting child prostitution.
Not wanting to give up on his brother, Dave travelled to the country and helped his imprisoned sibling have his own religious awakening.
The pair then told their story to hundreds of inmates in the Philippines, and Dave wrote a book which has been distributed in prisons worldwide.
He added: "My brother died of TB the year before his release from prison, the only consolation for me was that he had that turn around."