Draft:Converted on LSD
From Wikipedia, the free encyclopedia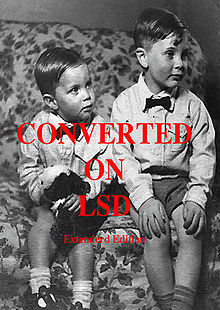 Converted on LSD is a true story by David Clarke, first published in 2001.
The story is about two bothers Michael John Clarke born 27th September 1946 who died [1] [2] in New Bilibid Prison, Philippines, in May 2005, and David Clarke born 16th February 1949 in Oldham, Lancashire.
It tells of the early lives of the brothers who moved with their parents to Aylesbury in the1960's and they became criminals. The were both sent to prison for malicious wounding and carrying a fire arm without a license.
A Story of Redemption
[
edit
]
The story goes on to tell of their redemption that took place some 30 years apart and the subsequent help they sought to bring others.
It tells of David's conversion from crime to Christ, on the 16th of January 1970, during a bad experience on LSD. He then appeared in Aylesbury's Magistrates court on 9th February to answer several charges and was not sentenced. In court Clarke told the Magistrates of his criminal past, including his time in Borstal, and reputation in the town of Aylesbury and how he thought religion was rubbish, for sissy people who could not stand on there own two feet. This was reported as headline [3] news in the Bucks Herald news paper on 11th February 1971. The article reads, David Clarke, who had a three-year career of undetected crime, experienced a "Christian conversion" whilst suffering from the effects of LSD, he told Aylesbury magistrates, on Tuesday. After wrestling with his conscience for a year, he confessed to 24 crimes, and gave information leading to the recovery of over £1000 worth of stolen property. In court he pleaded guilty to charges of steeling a £300 colour television set from an old peoples home, a £20 spray gun, and a hydraulic jack. He asked for 21 other charges to be taken into consideration, including stealing a builders shed, two cars, and an electric arc welder, two other T.V. sets, two compressors, and a road trailer. Clarke (21) of Finmere Crescent said that his reputation in the town had been that of a man who was enjoying himself. I used to sell drugs to young people, and indulge in permissive sex, he declared. He said, "Within my heart I was seeking for truth and a meaning to life". He had every prospect of getting on in life and went on to say, "I was not satisfied with what he had and was greedy selfish and boastful ".
Clarke had been using pep pills and Marijuana since he was 16 he told the court but it was after taking LSD that he experienced what he called, "A major thing in my life". He described the torment he suffered as a result of taking the drug and went on , "I warn any young person who hears my testimony, the effects are so bad, I warn you to stay clear.
While in that condition he called out to God saying, " Jesus please help me". and his troubles went from him, "Jesus Christ spoke to me as loudly as I speak hear saying, " David I am with you" he said, "What you are going through is nothing compared to what hell is like ".
Personal Witness Confirmed the Story
[
edit
]
Mr Murray, of Manor Crescent, Wendover testified in court to the sincerity of Clarke's conversion revealing that some time before it took place he had known of Clarke and had taken part in mutual prayers for the young and profligate man, offered at the instance of a mutual friend. Mr Murray said he was habitually skeptical of sudden conversions, and preferred to put them to the test of time. The time, which had elapsed, since Clarke's profession of faith had convinced him that this young man would now be salt and light to society". He is in truth, a new man, and had experienced what Christ called a second birth. Murray said Clarke now put himself out to be of assistance, read the bible intensely, always carried a New Testament, attended a wide circle of churches and would spend hours in discussion on spiritual things. Three other witness's[4] wrote to the court confirming the truth of Clarke's story.
Clarke's difficulty during the months spent deciding how to make amends for his past had been the problem of accusing himself, without informing on others.
Passing sentence the chairman of the magistrates, Colonel I. Tetley, told Clarke, "You have pleaded guilty to three offenses and asked us to take into consideration 21 others, and except a record over a short period of time, which is quite the worst we have ever seen, we have considered what we aught to do and have come to the conclusion that your evident desire to become a martyr is one we are not going to gratify". He gave Clarke a conditional discharge for three years pointing out that the sincerity of his conversion could be shown by his behavior during that period.
The book tells how David went on to educate himself that him onto Higher Eduction and graduation with a Cert. Ed. awarded by Birmingham University and then taught electronics in colleges of Higher and Further Education for over 20 years and then of is brother's conversion, from crime to Christ, some 30 years after his own conversion.
Why the Story Was Written
[
edit
]
The author was prompted the write this story when he heard that his brother had become a Christian, after serving 5 years of a 16 year prison sentence, in New Bilibid Prison, in the Philippines. It tells of David's mission [5] to the Philippines to bring assistance to his brother[6] and of their work in seeking to help former criminals in their reformation. The story continues in their joint book Trojan Warriors, Setting Captives Free [7]
Converted on LSD was first published in 2001 [8], some 30 years after the event when he learned of his brothers conversion from crime to Christ whilst serving his prison sentence in the Philippines, on a charge of promoting child [9] prostitution, a charge he always denied. Several editions of the book has been published all of which expand the life story. The second edition called Converted on LSD Trip, 2nd Edition[10] was published on 18th November 2011 the day his brother [11] was due to be release from prison due to his sentence being commuted by executive clemency and then Converted on LSD Extended Edition [12] with a second foreword written by Rev Gregg Haslan of Westminster Chapel London [13] and a special edition called Borstal Boys [14] written specially for prison inmates and was received well by prison Chaplains [15]. And 250 copies were circulated to 20 prisons in the UK. [16]. A second foreword was written by HMP Manchester prison chaplain Samuel Ntoyimondo [17] Local news papers reported the story. [18] [19] on a number of occasions. These papers include the Bucks Herald, Eastbourne Gazette, Oldham Chronicle and the Portsmouth News.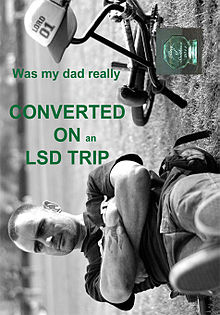 The story, Converted on LSD,has been expanded, giving more details about the authors experience as a member of the Bierton Strict and Particular Baptists[20] and written specially in the form of a confession and testimony[21] to help those who have never experienced some of the things he experienced in his early life.
Story Told As A Punk Opera
[
edit
]
The story Converted on LSD is also told a a punk opera [22] [23] called Borstal Boy [24] written specially to be performed in prisons [25]
A Hit With Prison Chaplains
[
edit
]
A forward to the first edition of the book has been written by the senior psychiatrist Dr Philip Fleming [26] the consultant psychiatrist for Portsmouth Health Care Trust for Portsmouth Health Trust and the book has been welcomed [27] by prison Chaplains for inmates to read at HMP Isle of Wight, HM Wandsworth and HMP Wormwood Scrubs in February 2013.
Bibliography
[
edit
]
Clarke, David (2001), Converted on LSD Trip, Abshott Publications, ISBN 0-9539473-0-0
Clarke, David (2012), Bierton Strict and Particular Baptists, Abshott Publications, ISBN 978-0953947379
Clarke, David (2014), Borstal Boys, Abshott Publications, ISBN 0-9539473-8-6
External Links
[
edit
]
References
[
edit
]
Converted on LSD Website [1]

Category:Articles created via the Article Wizard 15:10, 30 November 2014 (UTC) David Clarke 10:50, 3 December 2014 (UTC) David Clarke 11:06, 3 December 2014 (UTC) David Clarke 10:43, 5 December 2014 (UTC)
Review waiting.

This may take more than 3 weeks. The Articles for creation process is very highly backlogged. Please be patient. There are 1,588 submissions waiting for review.

---

If the submission is accepted, then this page will be moved into the article space.

If the submission is declined, then the reason will be posted here. Please check back here later to see the outcome of your request.

In the meantime, you can continue to improve this article by pressing the "Edit" tab at the top of the window. If you require extra help, please ask a question on the Articles for creation help desk or get help at our live help chat from experienced editors. Please note that these help venues are only for assistance editing or submitting your article – not for requesting that your submission be reviewed.

---
David Clarke 00:01, 16 January 2015 (UTC) David Clarke 23:53, 28 January 2015 (UTC)